[ad_1]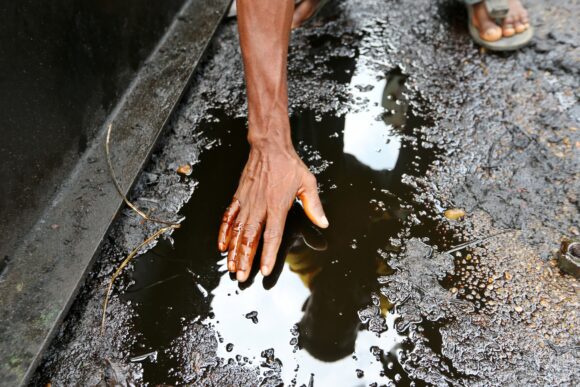 Oil companies including Shell Plc and Eni SpA should pay $12 billion to repair environmental devastation in Nigeria's crude-rich Niger Delta, a new report said.
More than six decades of pumping oil has left Bayelsa state "in the grip of a human and environmental catastrophe of unimaginable proportions," according to research published by a panel set up by the local government. The extraction of crude is "the overwhelmingly evident cause of this disaster" in the state, home to more than 2 million people, it said.
The Bayelsa State Oil & Environmental Commission, established in 2019 by a former governor of the southern state, released its final report on Tuesday. British lawmaker and former Archbishop of York, John Sentamu, chaired the London-headquartered commission, whose research was conducted by a group of international experts.
The area that is today Bayelsa was the first place in West Africa to produce commercial quantities of oil in the late 1950s. Since then, firms — mainly Shell and Eni — have pumped billions of barrels of crude from beneath the state's land, swamps and waterways. Spills from their infrastructure have transformed the region into "one of the most polluted places on Earth," according to the commission's report.
A spokesman for Shell's Nigerian subsidiary declined to comment on the report, saying the company is not "privy" to the commission's allegations and recommendations. Eni did not respond to a request for comment.
The oil companies say outside interference — by thieves and saboteurs — rather than equipment failure is to blame for the overwhelming majority of leaks from their facilities.
But the firms have failed to "properly invest in, maintain, manage and protect pipelines" that develop spills at a rate "unparalleled when compared to other major oil producing countries," the report said. There are also "strong reasons to believe that the official statistics significantly and systematically over-state the number of leaks caused by sabotage while downplaying those attributable to other causes," it said.
'Fundamentally Compromised'
About one-fifth of Nigeria's oil output comes from Bayelsa — with almost all the rest is pumped from other states in the Niger Delta or off the country's shores. While international majors for decades produced most of the nation's crude in partnership with the state energy company, they have been selling onshore and shallow-water licenses to local companies in recent years.
The oil majors that have extracted crude in Bayelsa and the state-owned Nigerian National Petroleum Co. should invest $12 billion to restore impacted areas, create new jobs, provide drinking water and treat health problems, according to the report. The fund's work will require a "parallel bureaucracy" involving both domestic and international oversight, it said.
The commission also recommended an overhaul of the regulatory and legal regime to allow heftier penalties, introduce a fast-track arbitration body and remove the influence of producers from the "fundamentally compromised" spill inspection process. The government departments tasked with enforcing environmental standards lack "capacity, independence and influence," it said.
The NNPC, National Oil Spill Detection & Response Agency and Nigerian Upstream Petroleum Regulatory Commission did not respond to requests for comment.
An environmental assessment published by the UN Environment Programme in 2011 led to the establishment of a $1 billion fund backed by Shell and the NNPC to clean up pollution in Ogoniland, a kingdom about 20% of Bayelsa's size in the neighboring Rivers state. Internal documents prepared by the UN agency and reported by Bloomberg last year indicate the project is marred by wastefulness and mismanagement that could be making the region even dirtier.
Studies conducted for the commission found that "toxins from hydrocarbon pollution are present at often dangerous levels in the soil, water and air" across Bayelsa and "have been absorbed into the human food chain," according to the report.
By tolerating what "they would never contemplate in their home jurisdictions," the multinationals have displayed "many of the hallmarks not just of gross negligence but of environmental racism," it said.
Photograph: Oil from an abandoned oil flow station operated by Royal Dutch Shell Plc sits on the ground in K-Dare, Nigeria, on Wednesday, Jan. 13, 2016. Photo credit: George Osodi/Bloomberg
Copyright 2023 Bloomberg.
Interested in Energy?
Get automatic alerts for this topic.
[ad_2]